I was just going through google and I found this...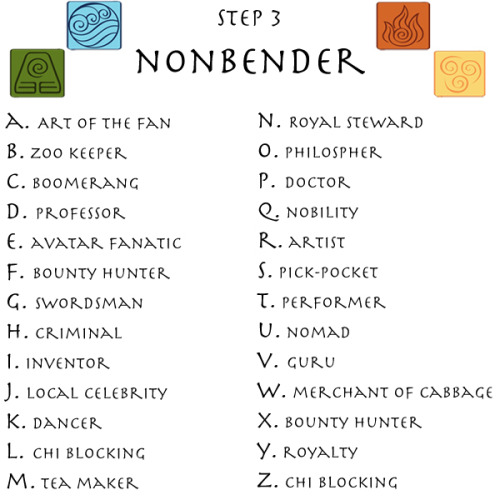 So thats why I think we should have more non-benders.
@Gamzee @HydroMan Thank you for helping me!
And thank @Easte for bring this thread back!

Swordsmen - Their attacks would involve a sword (Of course) and would have stances. So like chiblockers, swordsmen will have the warrior stance or acrobat stance. Maybe for one of their moves, it could be Spinning Edge.

Bounty Hunter - Their attacks would be similar to chiblocker since that can be martial artists (Like June), they wouldn't be able to paralyze benders though. Even though they would be similar to chiblockers, they could equip a wide range of weapons.

Ninja - Their attacks would involve throwing items like arrows/bombs at people and would fight with swords/knives (Not as sophisticated as swordsmen, but better than bounty hunters). Maybe poison arrows or a sword move called Stab.

NOTE: Ninja's now stab people with knives!

ADD: Swordmens now can cut through basic element attacks. By left clicking at the right time, the projectile (Water Manipulation, Fire Blast, ect.) will be nullified.

ADD: Bounty Hunters will have different moves for different weapons. Swords can have something like a move being able to hit 2x. Bows can have a move than involves 3 arrows.

ADD: Ninjas have a natural Speed 1 and Jump 2.

ADD: Bounty Hunters can use grappling hooks to pull people in!
ADD: Credit
to @Gamzee! For moves that involve a sword, the bigger the move, the more damage sword takes.

​
Last edited: