SparklingFire(PK 1.9.0)
firebending survival ability

Description​
SparklingFire is a firebending technique that creates a small ball of sparkling flame that is very easy to control.
This fire creates a lot of heat, so it is very easy to ignite something with it.
Using this ability, you can activate furnaces, nether portals, TNTs, ignite entities.
Hold sneak to charge SparklingFire. When you see fire particles, release sneak to fire a projectile
Permission

bending.ability.SparklingFire
Default Config

​
ExtraAbilities:

Dreig_Michihi:

Fire:

SparklingFire:

Damage: 0

Range: 20

FireTicks: 3

Speed: 1.2

CollisionRadius: 0.5

Cooldown: 2000

ChargeTime: 1000

FurnaceBurnTime: 800

​
​
P.S. This is my first addon ability, i'd like to see tips and comments from older masters

Sorry if my English is bad.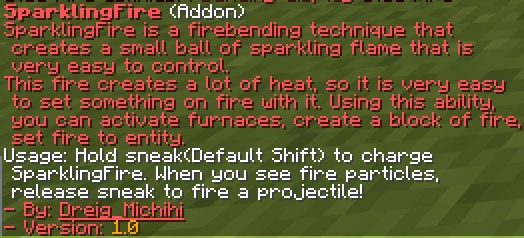 "This is not an official ProjectKorra ability, therefore, no official support will be provided in any threads other than this one. Use at your own risk."