SparklingFire(PK 1.9.3)
firebending survival ability
GitHub
Discord: Dreig_Michihi#8876
Please, leave rating and comment if you liked it,
Contact with me, if you find some bugs, thank you :3
Description
​
SparklingFire is a firebending technique that creates a small ball of sparkling flame that is very easy to control.
This fire creates a lot of heat, so it is very easy to ignite something with it.
Using this ability, you can activate furnaces, nether portals, TNTs, ignite entities, explode creepers, lit campfire, candles, and even fill brewing stands!
Hold sneak to charge SparklingFire. When you see fire particles, release sneak to fire a projectile
Permission

bending.ability.SparklingFire
Default Config

​
SparklingFire:

Damage: 1 - damage on hit

Range: 20 - the maximum distance the projectile can move away

FireTicks: 3 - 3 hits by fireTicks damage

Speed: 1.5 - speed of projectile

CollisionRadius: 0.5 - collision radius of projectile

Cooldown: 2000 - cooldown after projectile disappeared

ChargeTime: 1000 - charging ability

FurnaceBurnTime: 800 - how long furnace will burn after you hit it

ActivateCreepers: true - enable if you want to explode creepers like with flint and steel

FillBrewingStands: true - enable if you want this ability to fill brewing stands

BrewingFuel: 1 - how much fuel adds 1 shot

PlaceFireOnEntityDamage: true - enable if you want this ability to set fire in legs of hitted enemy

EntitySpreadsFire: true - enable if you want your enemy to spread fire while he burns

​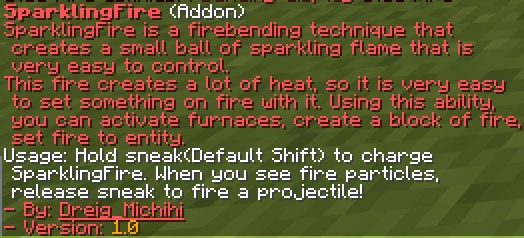 "This is not an official ProjectKorra ability, therefore, no official support will be provided in any threads other than this one. Use at your own risk."