WaterArms is great right now, but I feel like there are a lot of features that are canon that would make the ability way more useful. Ming-Hua is obviously a great source of inspiration for this because she uses the waterarms so creatively, and I feel like a lot of the techniques she uses should be implemented. These are a few:
Grappling + Grabbing
You can already grab a player if you only have one arm left & you can grapple with just one arm, so it would make since if you could grapple while holding a player in another arm. This would make things really interesting.
During group bending situations, you could climb a cliff while holding a teammate and then set them down on top. If the other player was an opponent, you could grapple up to a high spot and then throw them off, dealing a lot of fall damage if they don't save themselves before they fall. In survival situations, you could transport a horse / mule that was carrying your items over a high cliff / wall by carrying them up and setting them down safely on the other side. There would be so many possibilities if this was implemented.

In the show, when Ming-Hua saves P'Li from her prison cell, she carries her on her back and climbs out. This is a little bit different from holding her with one arm and climbing with the other, but it's similar and shows that you can climb with the weight of another person.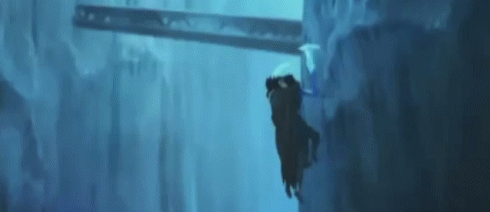 Hanging
I don't know if this is ever seen inside of the show, but it would likely be possible with waterbending to grapple onto a surface and then stay there. In the GIF above, Ming-Hua turns the tips of her waterarms into ice to help her climb up. If a waterbender were to climb up, turn the tips of their waterarms to ice, and then stop grappling, they could hang from that surface and punch, pull, grab, freeze, or spear with the other arm. This would obviously need to have a duration time so that the waterbender can't stay hanging from the one area forever, and they would only have access to waterarm features (they wouldn't be able to like use torrent and other attacks while hanging), but again, it would make things more interesting.

Drill
In the same episode, Ming-Hua turns both arms into a giant ice spike and drills through the ground. This would be hard to make in game, but it would be really cool (especially for survival and stuff, like raiding situations where the player could quickly mine into a base or go into a cave) if completed correctly. It could also be a move that requires no charge time if you are falling from a large height and use it (which would give players the opportunity to grapple up onto something high and then jump down and drill), preventing fall damage.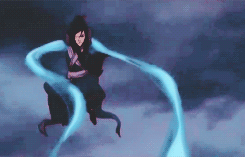 Fan? Spin? Blade? Something?
In another episode, while fighting Kya, Ming-Hua stretches out her water arms, turns the tips into blades, and spins in a circle quickly, rotating her arms and making it difficult for Kya to dodge. Waterbenders could take out multiple people with this move and get some distance between them and their opponents if they get overwhelmed.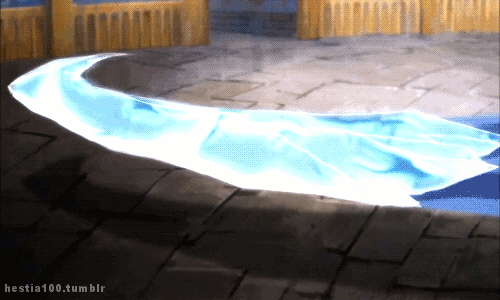 Multiple Arms (more than 2)
In the same episode, while fighting Kya, Ming-Hua is pushed off of the Air Temple but comes back up with many waterarms. This move would probably require a full moon and lots of water for a bender to be able to use. Players could use the normal functions of waterarms, but they would be massively amplified. When punching and freezing, multiple arms would do it at the same time. The waterbender could easily grapple because there would be more than 2 arms to grapple with. Players could have up to 5 spears (maybe more or less) to use.

Apart from all of that, they would have the high ground while their waterarms lasted because in all cases that this is used in the show, 2 or more waterarms are used to lift the bender off of the ground. Ming-Hua uses this technique while fighting Mako, too.

As you probably know, Mako uses lightning to kill her because it runs through the water, up through her arms, shocks her. This has already been implemented in ProjectKorra with normal sized waterarms, but with multiple waterarms, firebenders could kill the player more easily with lightning, making it a little bit less overpowered.


This would be a really overpowered move, so I could see why it wouldn't be implemented, but it makes the bender weaker in some ways and there are definitely ways for other people to kill the waterbender while they use this technique.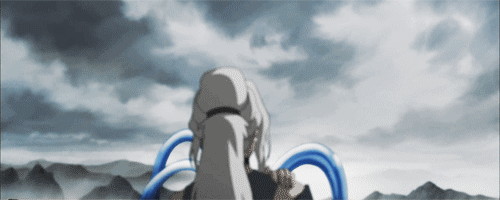 Better Grab
This is a small feature that I think should be added. Currently, you can only grab players and mobs with grab, but I think that you should be able to pick up items with it, too. This wasn't seen in the show, but if it's possible to pick up people and grab onto things, it would easily be possible for a bender to pick up an item with waterarms. If it was night, maybe even allow them to pick up multiple items that are on the ground if they are near together.

So, this is a ton of stuff, but I just wanted to suggest that we add more to waterarms. This is probably low on the list of priority, but it would make it a really useful feature of waterbending.