MagmaRush:
Shifts the earth to a substance between lava and earth to form magma and executes a deadly rush of the substance.

Usage:

Hold sneak and left click to launch.
Config:
Code:
MagmaRush:
      Cooldown: 5000
      Range: 20
      Speed: 1
      Damage: 2
      FireTicks: 50
      SelectRange: 10
      LavaPool:
        Enabled: true
        HoldDuration: 10000
Perms:
bending.ability.MagmaRush

Requirements:

Current Version:
- 1.8.8
Previous Versions:
- 1.8.3 or above (Recommended: 1.8.6/1.8.7)
Minecraft Gif: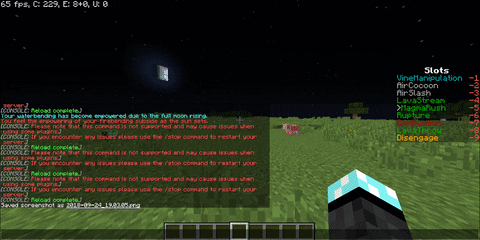 "This is not an official ProjectKorra ability, therefore, no official support will be provided in any threads other than this one. Use at your own risk."