Staff member
Plugin Developer
Moderator
Hi everyone! As you may have seen via our GitHub or community discord, we have just released ProjectKorra version 1.10.0 - our first release in a while!
This update doesn't have a name per se, but it introduces a whole lot of new changes! One of which is the ability for elements to now use hex color codes for their colors! This means there are now over 16 million colors to choose from for each element color! Check out some of the screenshots below!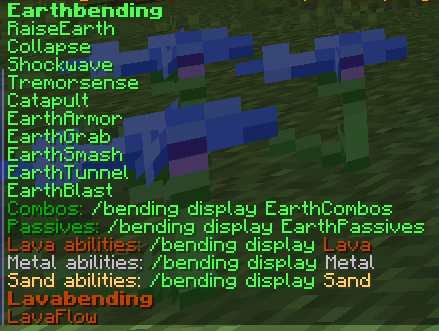 If you want to see a full changelog of this update and what it brings (especially to server owners), you can check that out
HERE
!
We also want to take the time to talk about the future of ProjectKorra Core.
A lot of our community has noticed that updates are getting slower and slower. And we want to acknowledge that. A lot of our core team members don't have the same amount of time to dedicate to ProjectKorra as they previously have, as they've become busy with just... life. But that isn't their fault. Life gets busy.
So going forward, ProjectKorra Core will be undergoing 2 major changes in regards to releases:
The versioning of ProjectKorra is going to change to better reflect content/bug fix releases. This update, 1.10.0, contains a lot of content, but if we find major bugs with it, we will no longer wait months to release fixes for them. Instead, we will post a minor bug fix release as 1.10.X. For standard updates, we will update the middle number. E.g. 1.11.0
Releases are now going to contain less content, but will be released faster. This means that 1.11.0 may not contain as much "content" as 1.10.0, but will be released much sooner than if we wait for content to pile up.
Additionally, going forward, one of the things we are going to strive to do is better tailor ProjectKorra Core toward server owners. Right now, we understand that a lot of servers run their own version of ProjectKorra using their own modifications. We want to change ProjectKorra Core to better fit everyone so no one has to modify Core to be happy with its contents.
If you are a server owner struggling with this, please let us know what we can do differently! We welcome suggestions on what we can do to help improve the plugin!
Also, if you are a developer and want to join the team to help improve ProjectKorra, please, do apply! We'd love to have more people on the team to help improve ProjectKorra! We are also open to casual pull requests on GitHub if that's your thing!
That's all for now! But please let us know what you think in the thread below! We will also have notes for developers in the post bellow!