For a while now, I have seen people complain about how Waterbenders are not receiving any new bending abilities and just recently I viewed an edit for Octopus Form presented by Immallama. In my opinion, I agree with Immallama, Octopus Form does need some changing. It takes a while for Octopus For to fully form and once formed its only use it knock back and a little bit of damage. Don't get me wrong, Octopus Form is great for battling mobs, but when fighting other users, its easy to manipulate the Waterbender since they are slow (Waterbender must hold shift to keep the form) and and its range is really short so you can never land an attack. In my Opinion, I feel that Octopus Form should be removed and replaced with a new move called Water Gimbal. This ability would actually be a 2 in one, just like torrent is and it presents itself as both an offensive and defensive attack.
Ability Name: WaterGimbal
1)When a user clicks a source block and then holds shift, 2 rotating rings of water will be placed around the user (this will last for however long a user remains to hold shift or when they click). The 2 rotating rings of water will serve as a shield. This shield will protect a Waterbender against moves like Fireblast, Watermanipulation, and Earthblast.
Example:
2) Once the 2 rotating of rings of water have been formed, a Waterbender can continue to hold shift to keep an ongoing manipulation of 2 water rings or a user can click a nearby victim and the rings will form into water arms that will then grab the victim for 5 seconds. The radius for grabbing a user will be 10 blocks, and once grabbed it will pull the victim towards the Waterbender until they are just 5 blocks away (this also applies to if a victim is 3 blocks away, it will push them to a 5 block radius of the Waterbender). Once a user has reached the radius of 5 blocks, a Waterbender will have total control of them for 5 seconds. They can click once again to throw them, or just hold them until the 5 seconds are up.
Examples: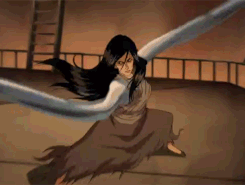 (Credits to Immallama for finding these images)

3) Once the victim has been held for 5 seconds or has been thrown, the water arms will form back into the 2 rotating rings of water and the Waterbender can await for their next victim.
Wiki Definitions:
Water gimbal
: Skilled waterbenders can create a gimbal, or two rotating rings of water, around their bodies. This has both defensive and offensive capabilities, such as being used as a cannon.
Kya
was seen using this in her fight with
Zaheer
.