Quick Explanation : This is a watercombo that is semi-automatic and still very easily manipulated
Combo Formula : Watermanipulation (Hold sneak) > Surge (Release Sneak) > Octopusform (Left click) [All facing water]
Visualization :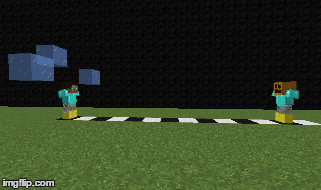 In the gif the firebender (Pumpkin head) is attacking the waterbender, the first two moves are blocked by the orbs and the last one will be shot towards the enemy.
Detailed Description: Frozen orbs created will protect the bender for two hits, and after both are destroyed, the last one can be launched forward by clicking while sneaking, the orb is not redirectable after clicking, but it will move at a great speed.
The first two orbs will protect you from light moves, such as watermanipulation, earthblast, fireblast, and airswipe, but moves that are too light such as airblast, will not destroy the orb and go back to the bender.)*See footnote 1
The orb can still be destroyed by the basic attacks of each element (Watermanipulation, earthblast, fireblast, airswipe)
Cooldown : 12000
DamageFromOrb : 5
Note : Movement is possible and the orbs will face the direction you are.
Switch away from octopusform to deactivate.
Footnote 1 : Light moves
Airblast, Airbreath
Last edited: